the 5 greatest reasons to wear driving gloves
"the truth about driving gloves"
Driving gloves are often seen as a luxury item, reserved for special occasions or high-end sports cars. However, they offer numerous benefits beyond just looking good. From improved grip and control to protection from the elements, there are many reasons why you should consider wearing driving gloves. In this article, we will highlight the 5 most important reasons to wear driving gloves and how they can benefit you as a driver.


We hear people often saying; "nah, I don't wear driving gloves, it's not for me."
Our top five most heard excuses of not wearing driving gloves:
1. I don't own a classic car
2. I don't own a proper supercar
3. I think it looks silly
4. Isn't it a little prestigious?
5. I don't drive that fast

But there are some pretty convenient reasons why to wear Driving Gloves:

1. the best way to preserve your interior.
The steering wheel has a rough time during its cycle. It's along with the seats the most used interior part of your car and probably the first thing you look at the moment you step into your car. Being a car fanatic, everything needs to look neat, including your steering wheel. The steering wheel leather suffers from your lovely human oils and sweat thus falling apart bit by bit. Especially Alcantara can be easily damaged and worn out. Driving gloves will protect your steering wheel against yourself and makes sure your steering wheel remains to be in a better shape over time.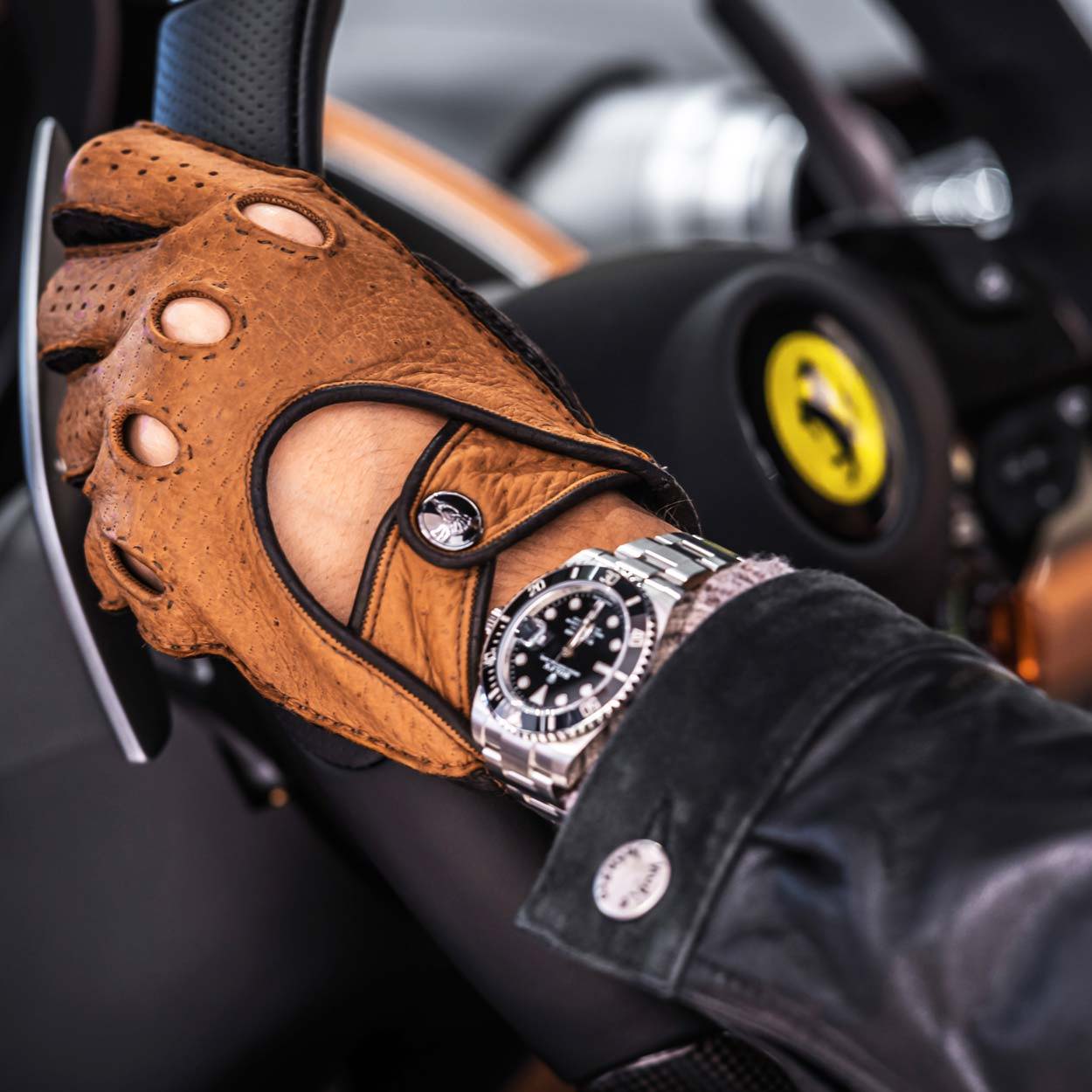 Classic Cuoio DRIVING GLOVES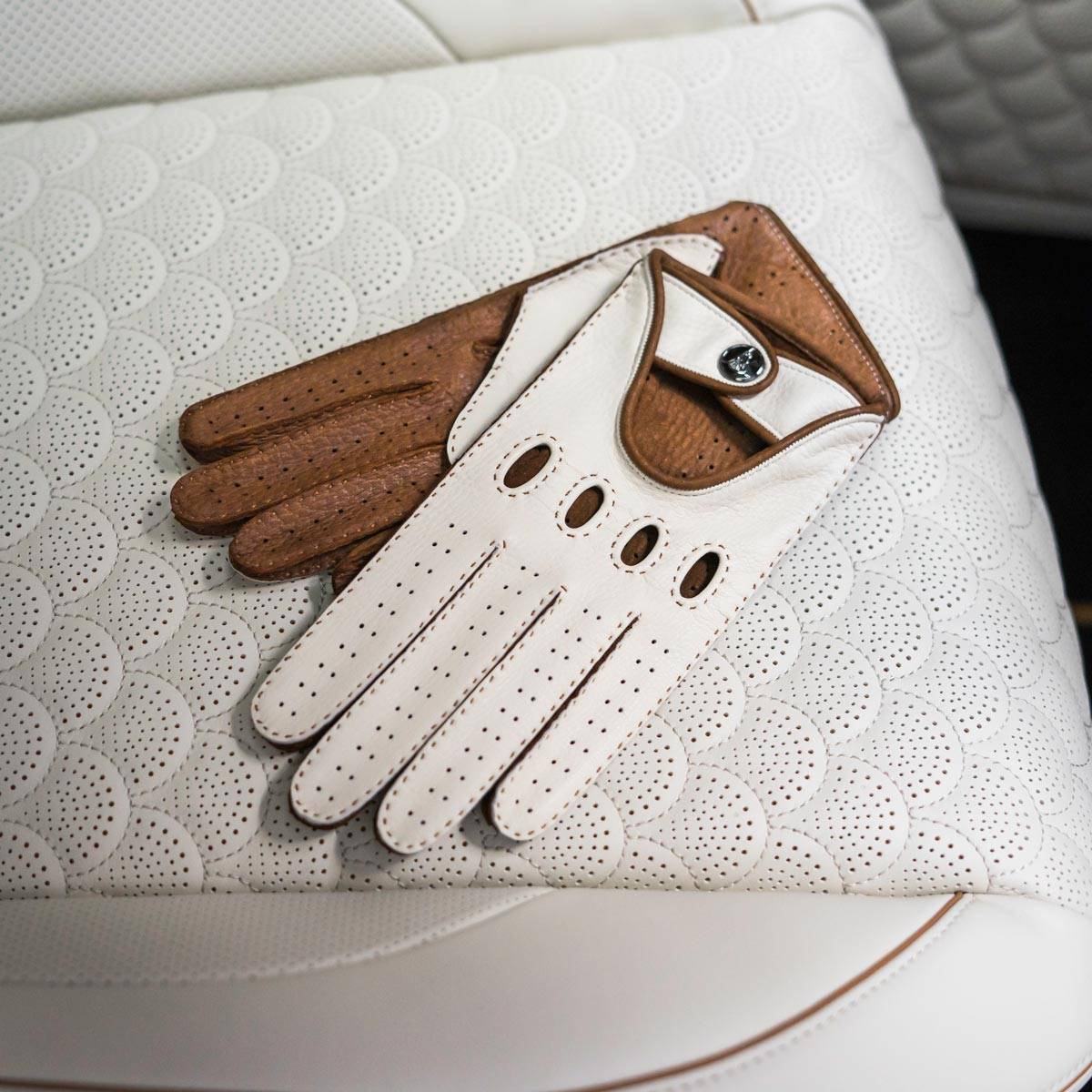 bianco hybrid DRIVING GLOVES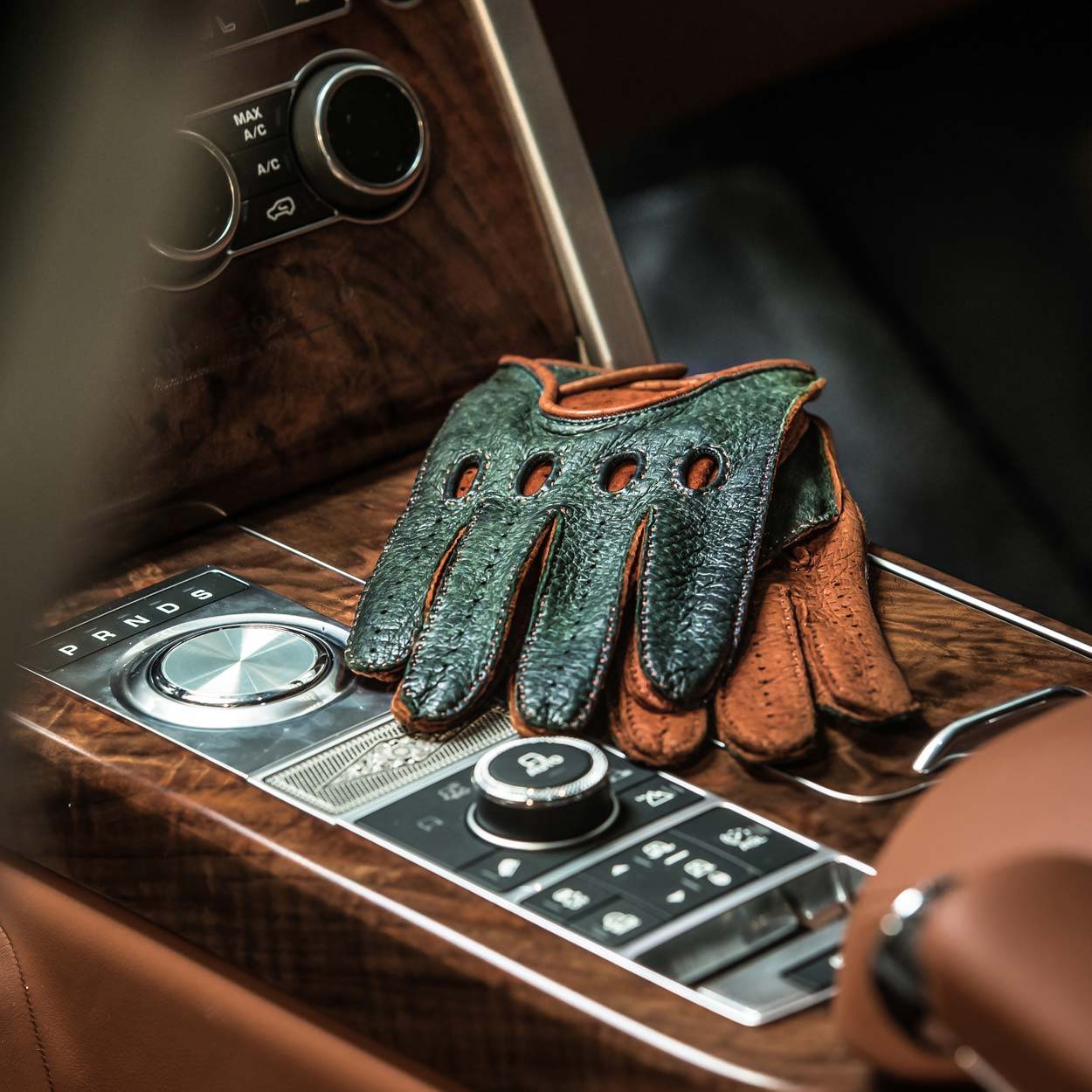 corsa verde DRIVING GLOVES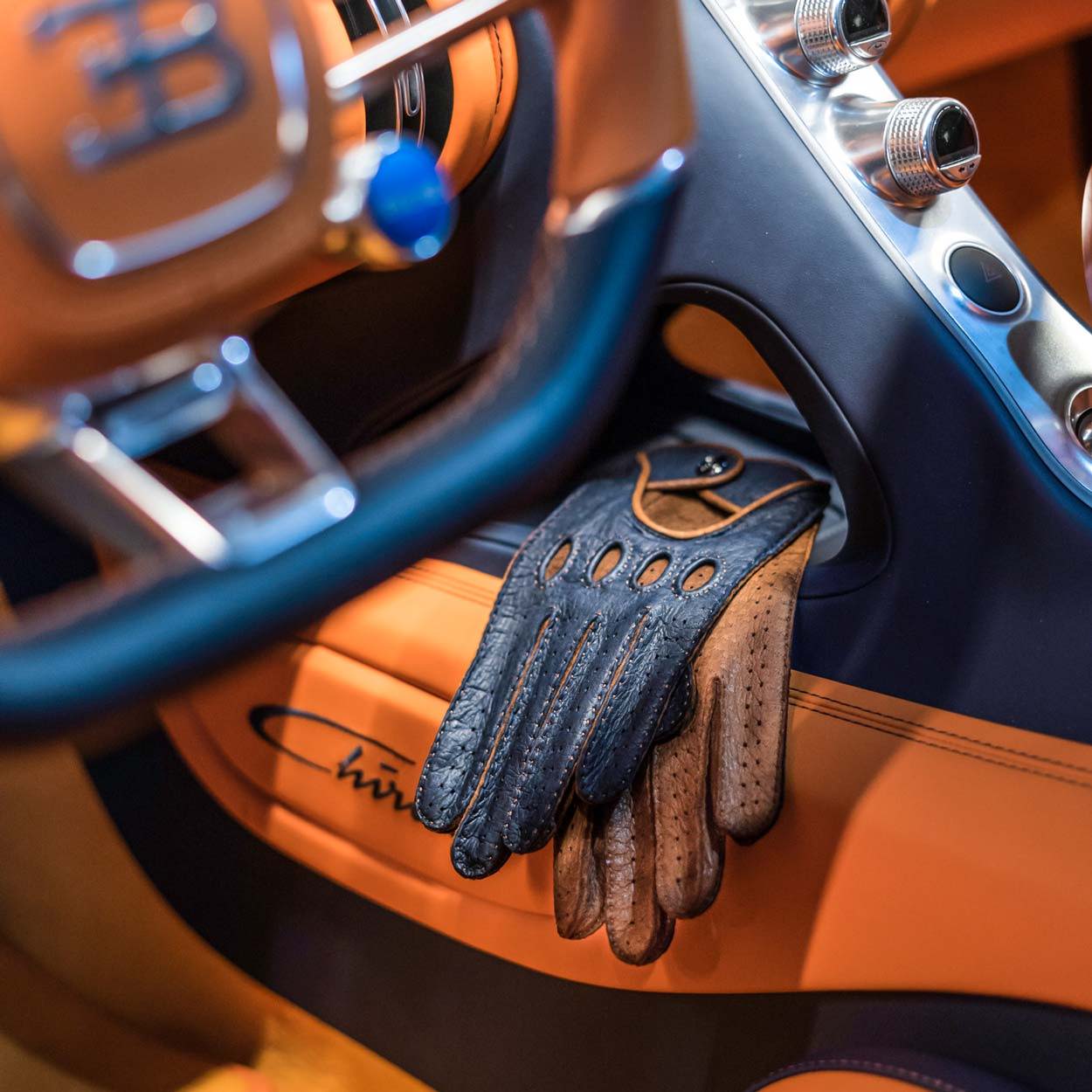 2. BE FULLY IN CONTROL AND A BETTER DRIVER.
One of the most significant benefits of wearing driving gloves is the enhanced grip and control they provide. The gloves are designed to improve your grip on the steering wheel, providing a better feel and control of your vehicle.
Sure, nowadays steering wheels are not made of slippery materials and especially Alcantara provides good grip with bare hands. But we are confident that driving gloves support you a lot in terms of steering wheel grip. Imagine yourself driving on a sunny day on a beautiful curvy road trying to push your car a bit more (of course the road is completely yours and no other road users can be seen). 100% concentration, focus and holding tight to your steering wheel. It isn't inevitable your palms getting sweaty thus your steering wheel slick and that's not particularly desirable in that sharp U-shaped curve.

Driving gloves will overcome this and deal with your hand moisture. Especially the leather species we use, Peccary leather, allows maximum grip. We have experienced lamb leather tends to become slippery. Peccary leather is by far the strongest, durable and most flexible leather species used for driving gloves, and that's just what you need on a nervous breaking road.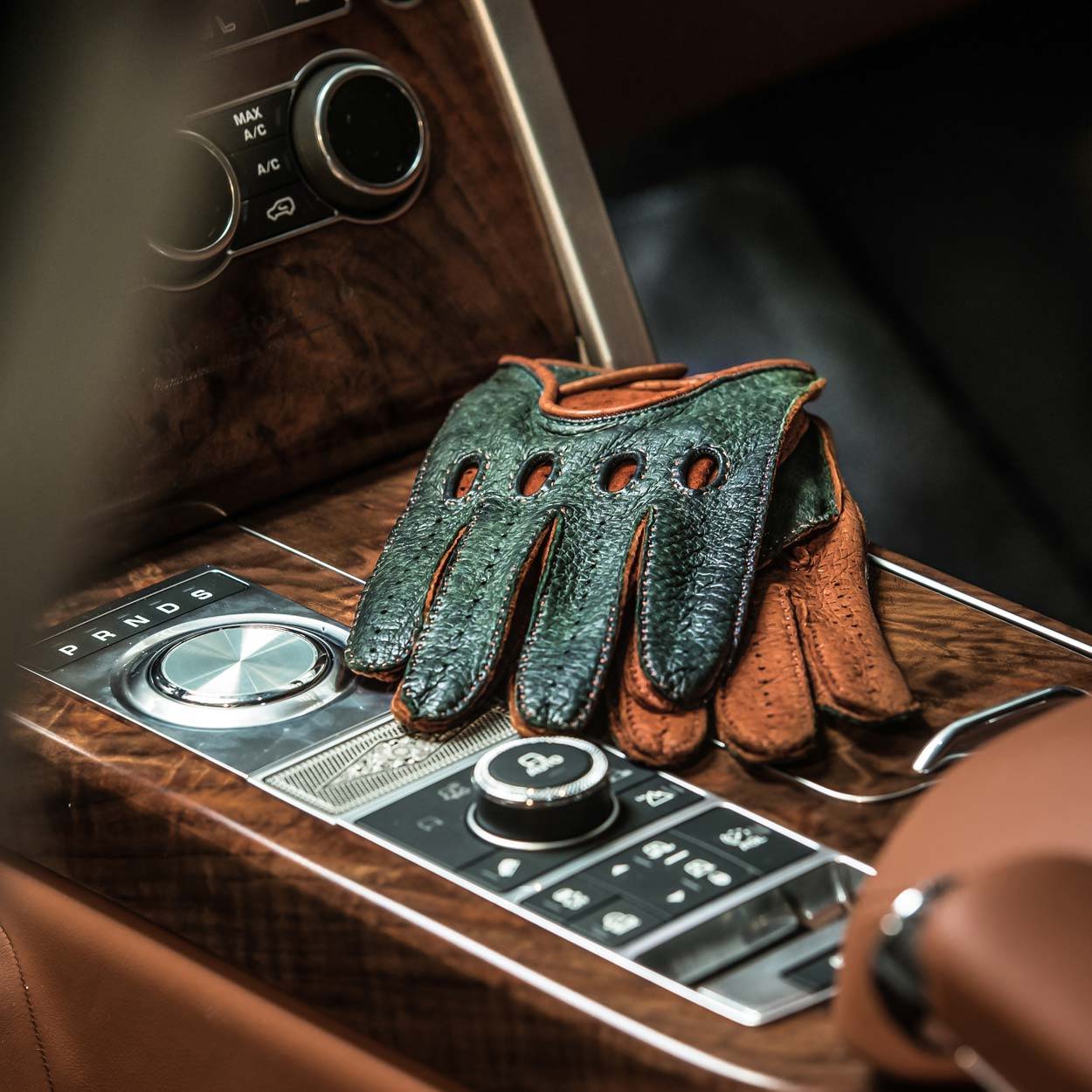 Corsa Verde DRIVING GLOVES
Strada facendo DRIVING GLOVES
3. DRIVING GLOVES PROTECTION FROM THE ELEMENTS .
With the earth temperature slowly heating up, it isn't inevitable to find yourself in a car, which is parked in the summer sun, with a steering wheel that's that hot you think it's made of lava. A pair of driving gloves will make it much more comfortable to continue and keep on driving. In cold weather, driving gloves provide an additional layer of insulation, keeping your hands warm and comfortable. Additionally, driving gloves can protect your hands from windburn, particularly when driving at high speeds with the top down.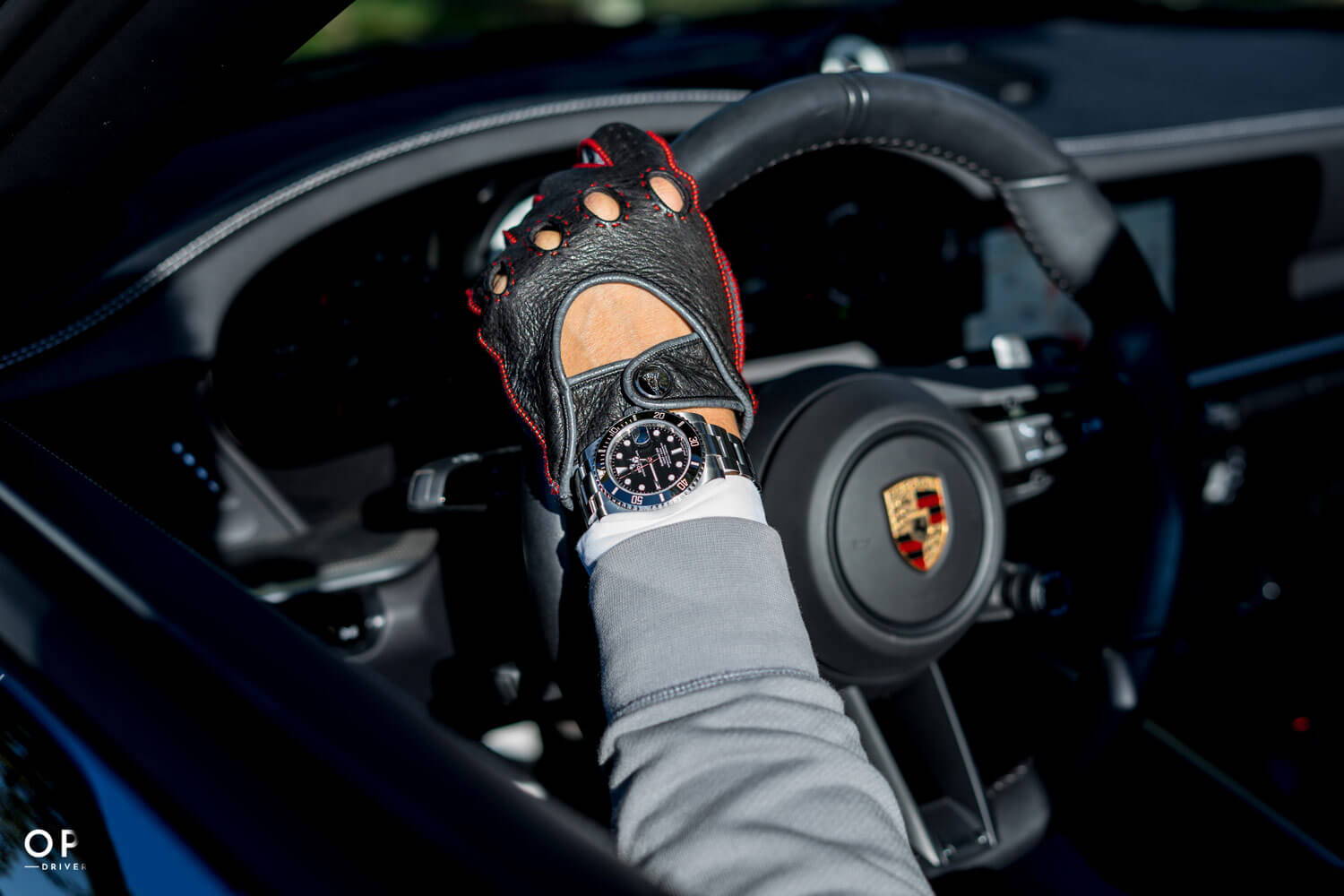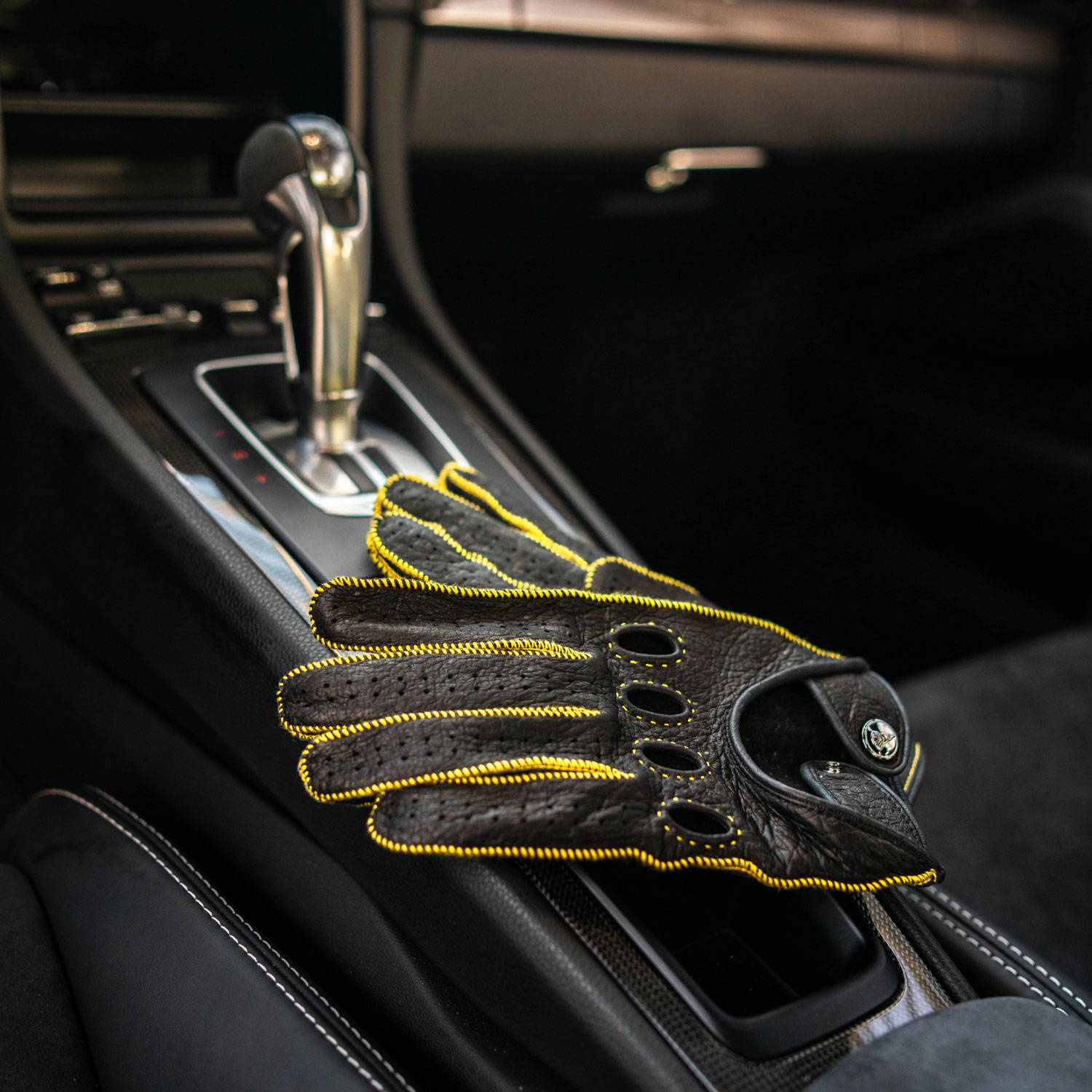 diablo giallo DRIVING GLOVES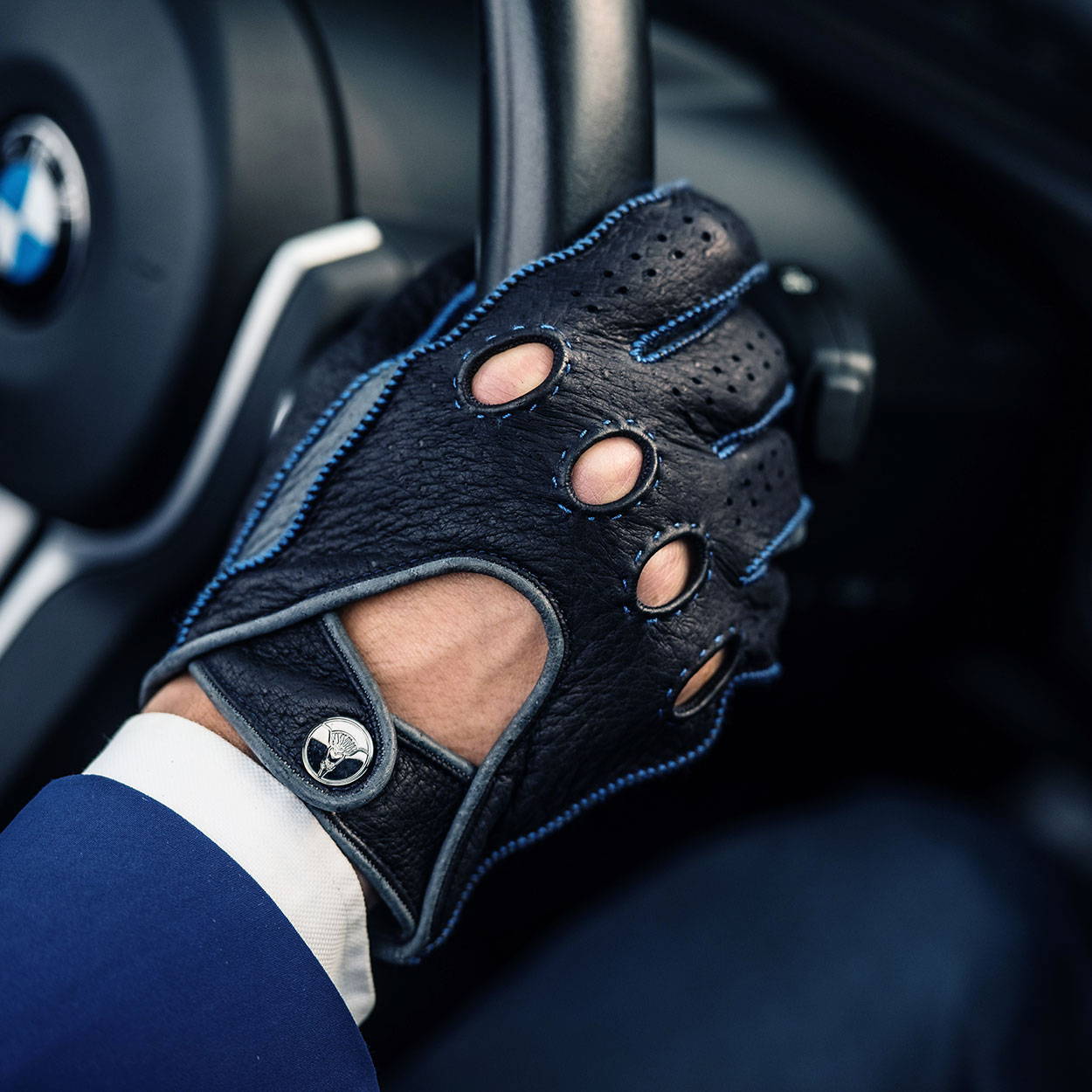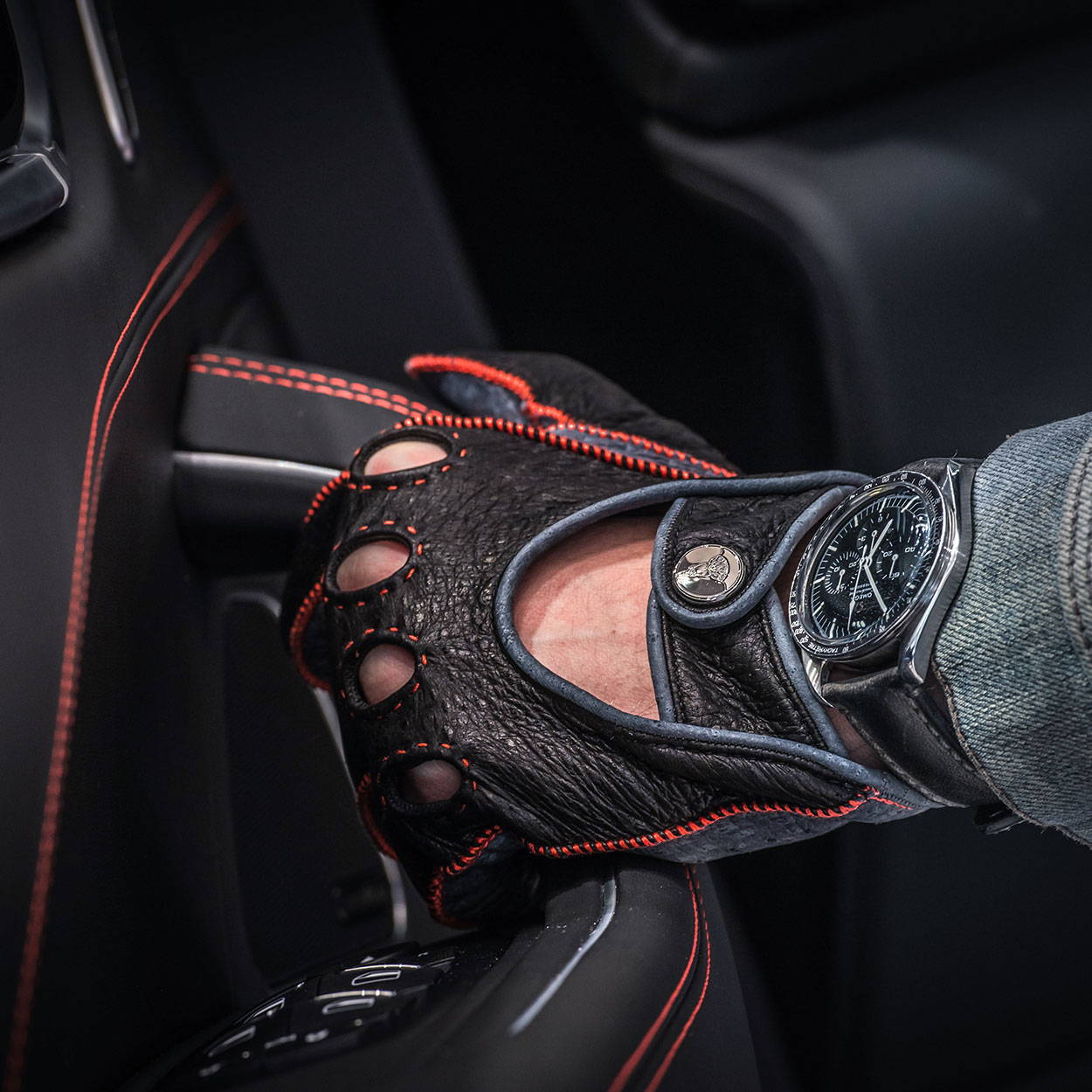 ROSSO ACCESO DRIVING GLOVES
4.

ELIMINATE

hand fatigue.



If you are a true petrolhead, you do like a long drive. A perfect road trip with the greatest roads to your final destination.
These drives can take up hours which may tire your hands,
particularly if your vehicle has a hard or slippery steering wheel. Wearing driving gloves can help reduce hand fatigue by providing additional cushioning and support for your hands. The gloves absorb shock and reduce the strain on your muscles and joints, making your driving experience more comfortable and enjoyable.
The Peccary leather of our driving gloves reduces vibration which in turn reduces hand fatigue.
Driving gloves protect and cushion the impact of the wheel, making your road trip even more enjoyable.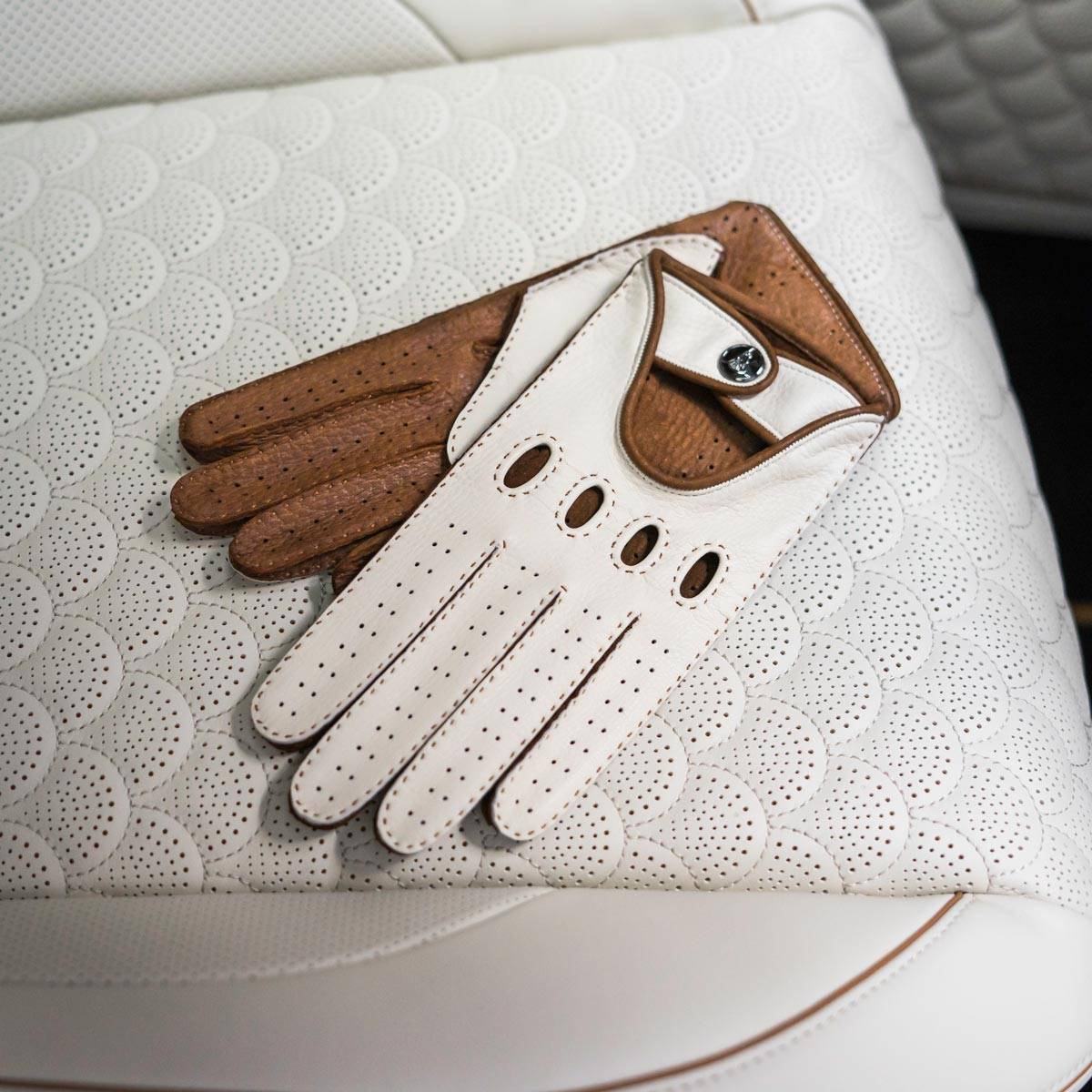 Bianco hybrid DRIVING GLOVES
rosso acceso DRIVING GLOVES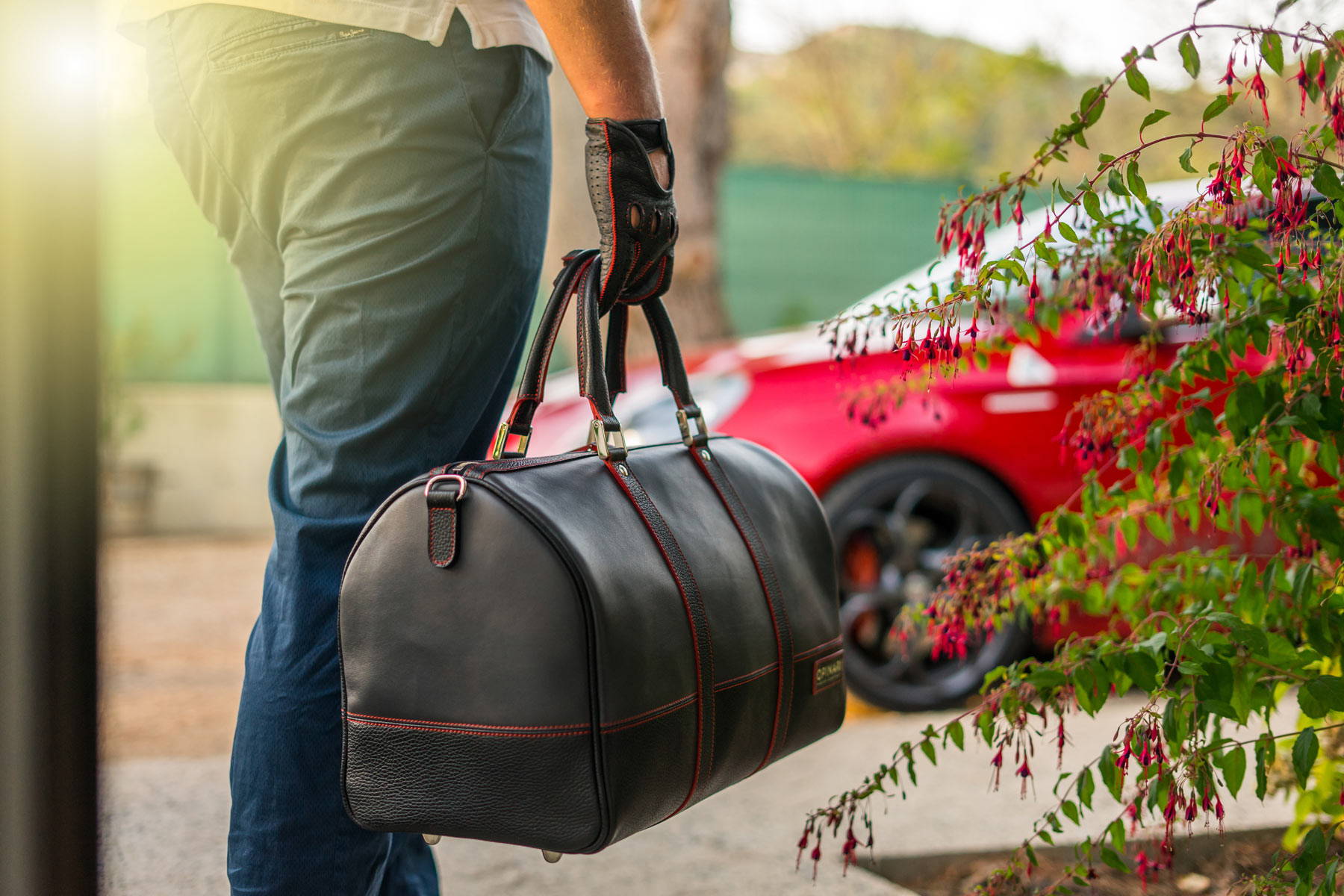 5. the truth about driving gloves.
If we look at motorcyclists we can see a clear difference with car drivers. Motorcyclists certainly distinguish themselves by means of their outfit. They make a statement and express themselves openly by matching their outfits to their motorcycles. Imagine yourself a Ducati motorcyclist, big chance they are driving with a matching red outfit, probably with a back tag which is stating "DUCATI." It is that small finishing touch which makes the motorcyclist one with their machine.
Something we motorist don't do quite often, so why don't we? Wearing driving gloves can make you feel more confident and stylish on the road, adding to the pleasure of driving.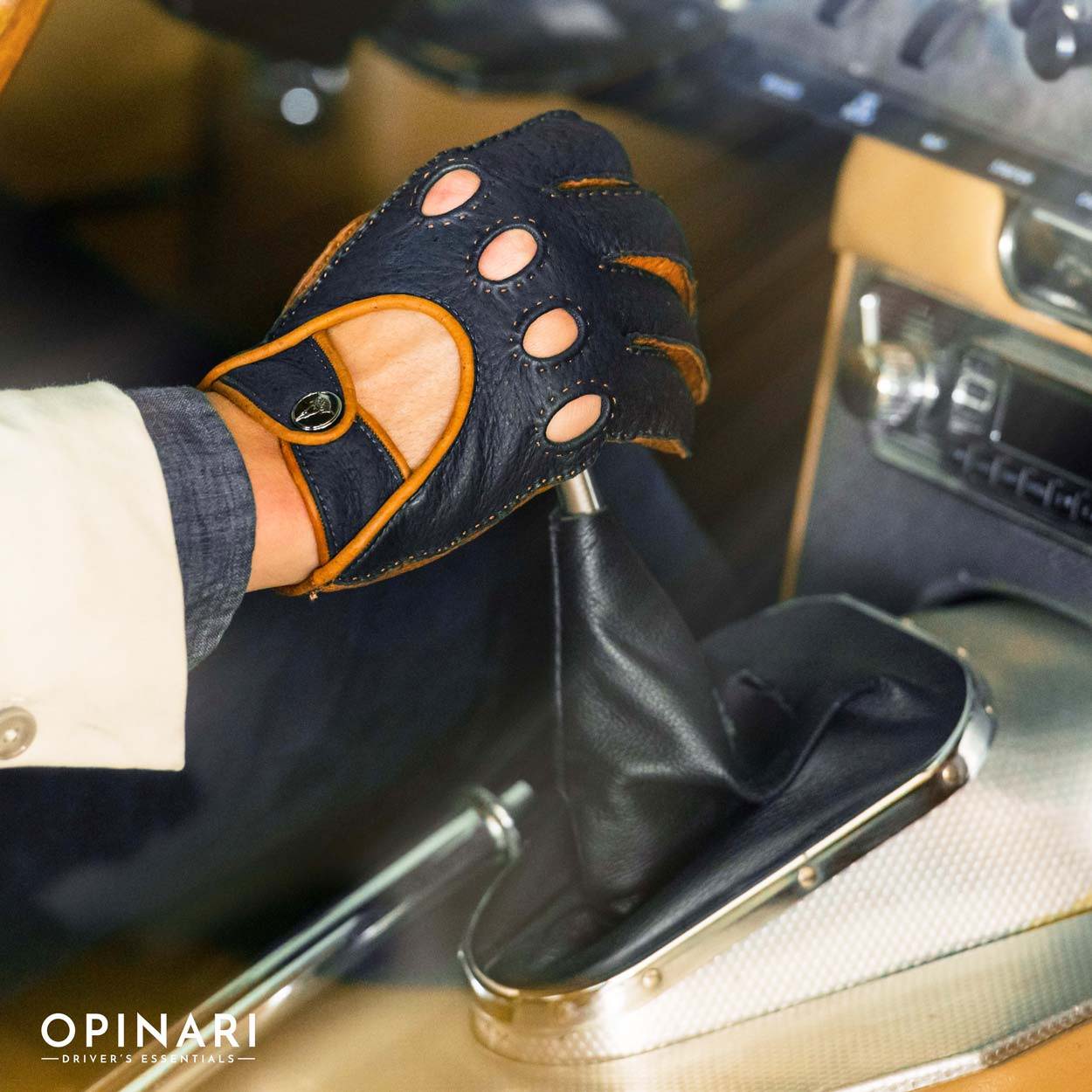 diablo giallo DRIVING GLOVES
Really, be honest; doesn't it look neat when wearing mens driving gloves behind the wheel? Certainly when the colour of the driving gloves matches with a car exterior, interior or a detail like a caliper. Remember Ryan Gosling in the movie Drive? Jason Statham in the movie Transporter? Christian Bale in the movie Le mans '66? The movie director didn't let these guys wear driving gloves to look silly or prestigious … they needed to look awesome!
The truth is, the biggest advantage of wearing driving gloves: they will contribute to your personal perfect driving experiences, and that's the best argument we petrolheads can think of! A real paramount contribution to the driving aesthetic!
are you convinced?
Check out our collection