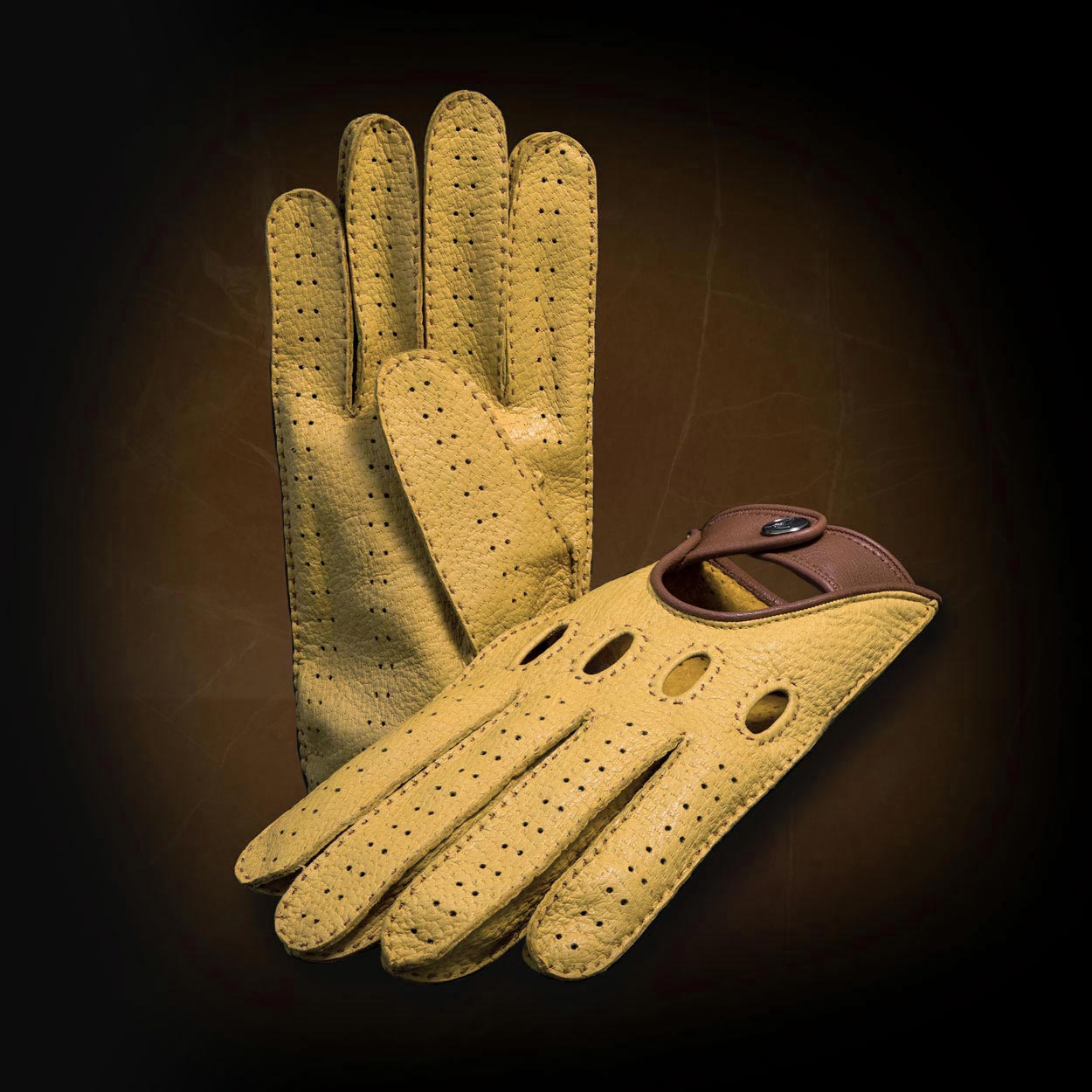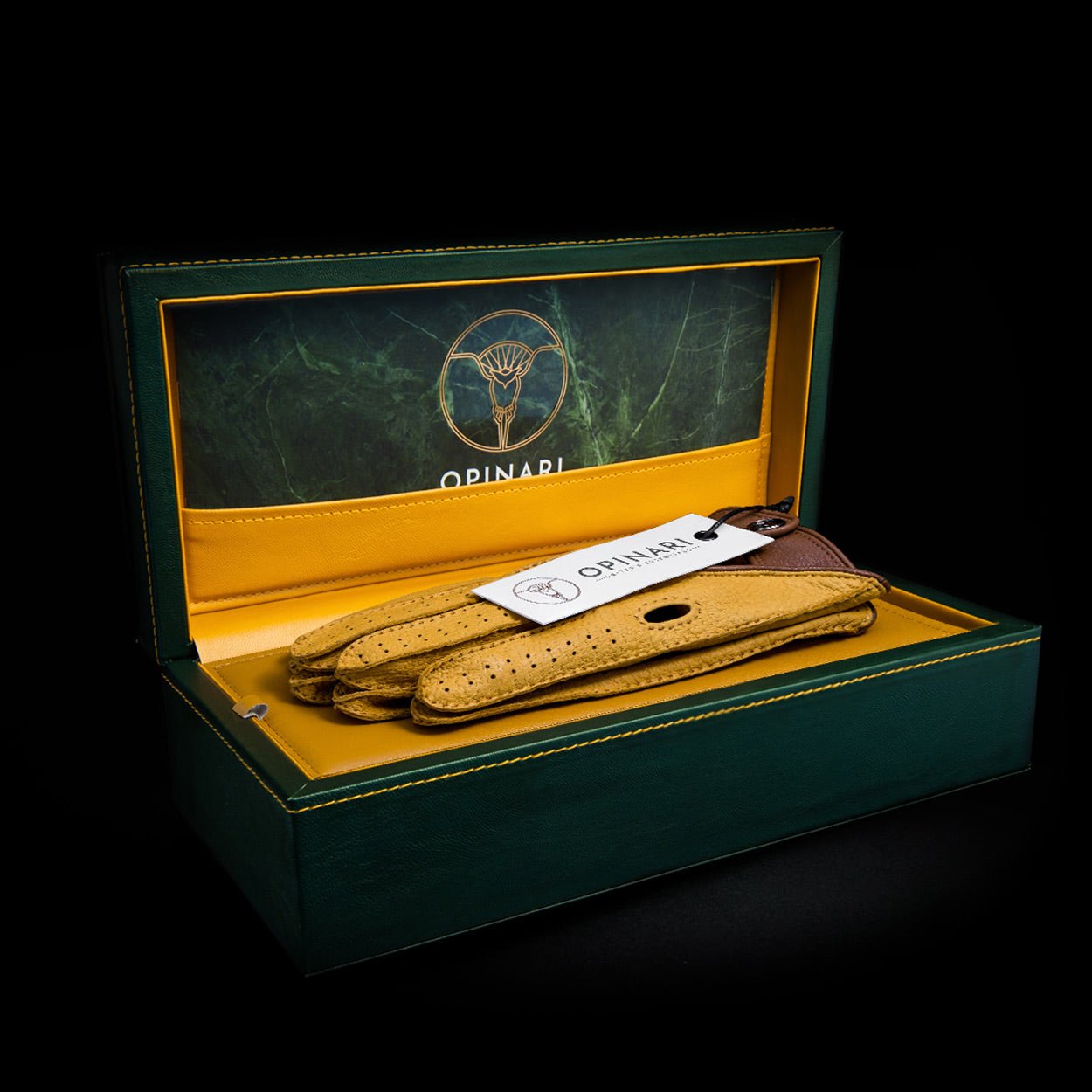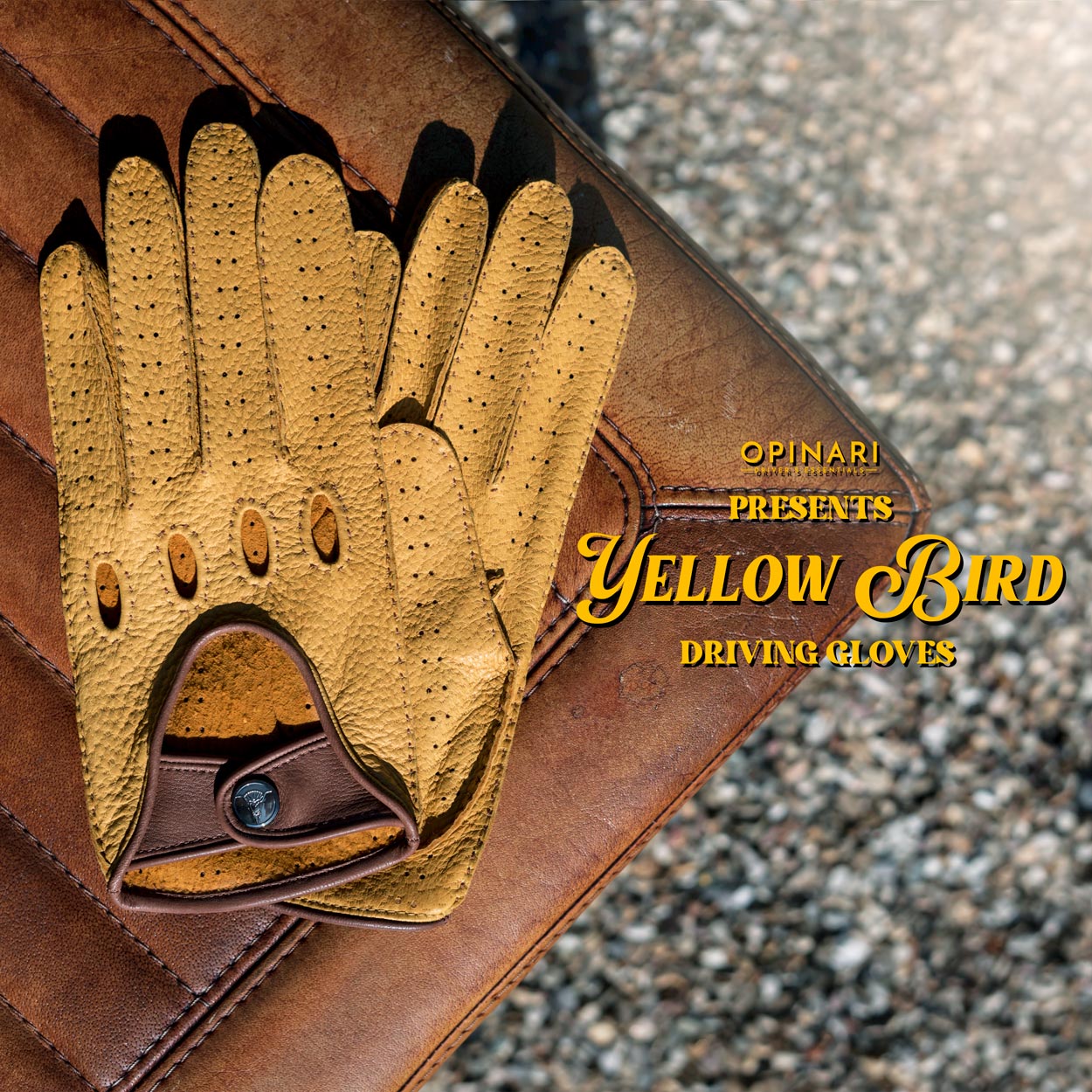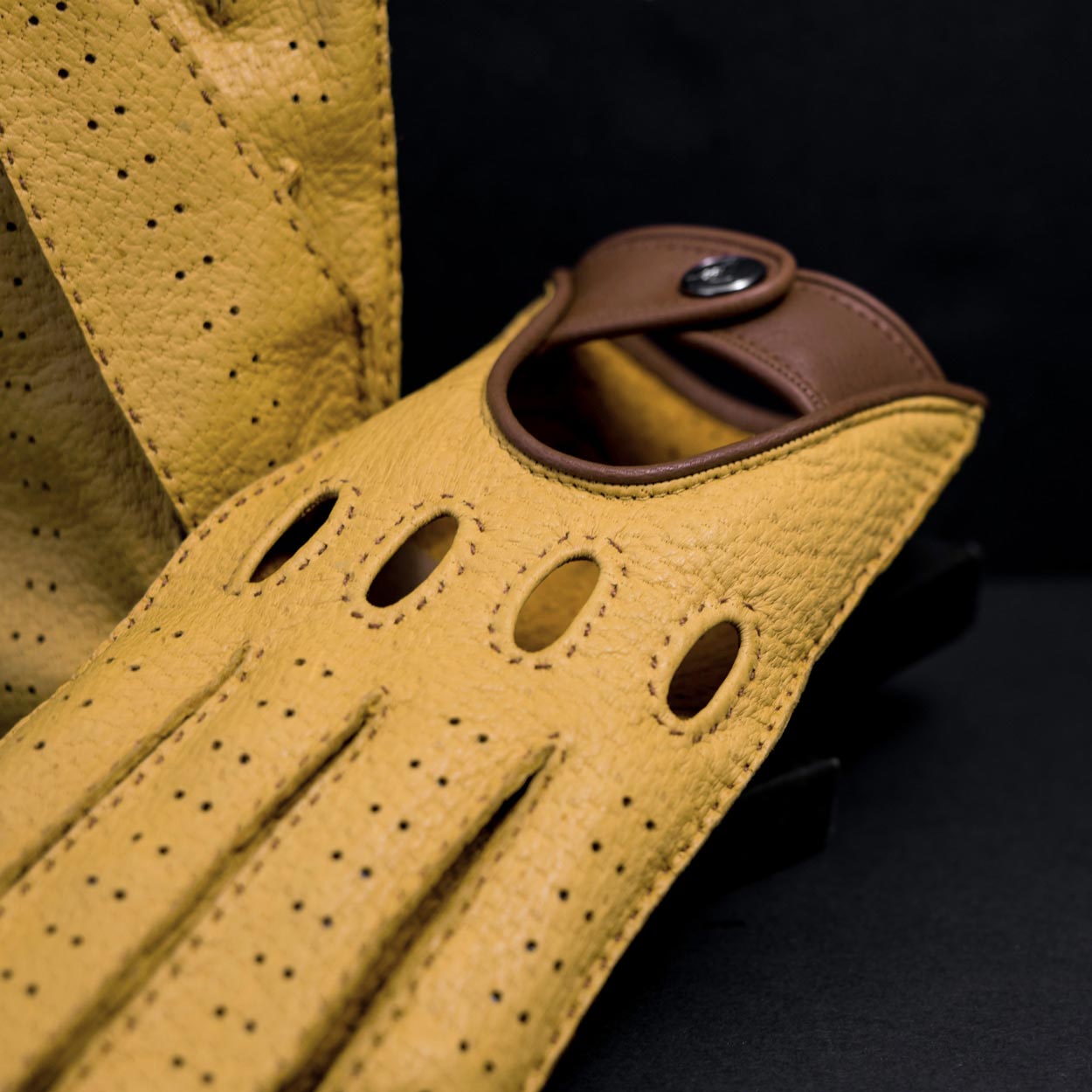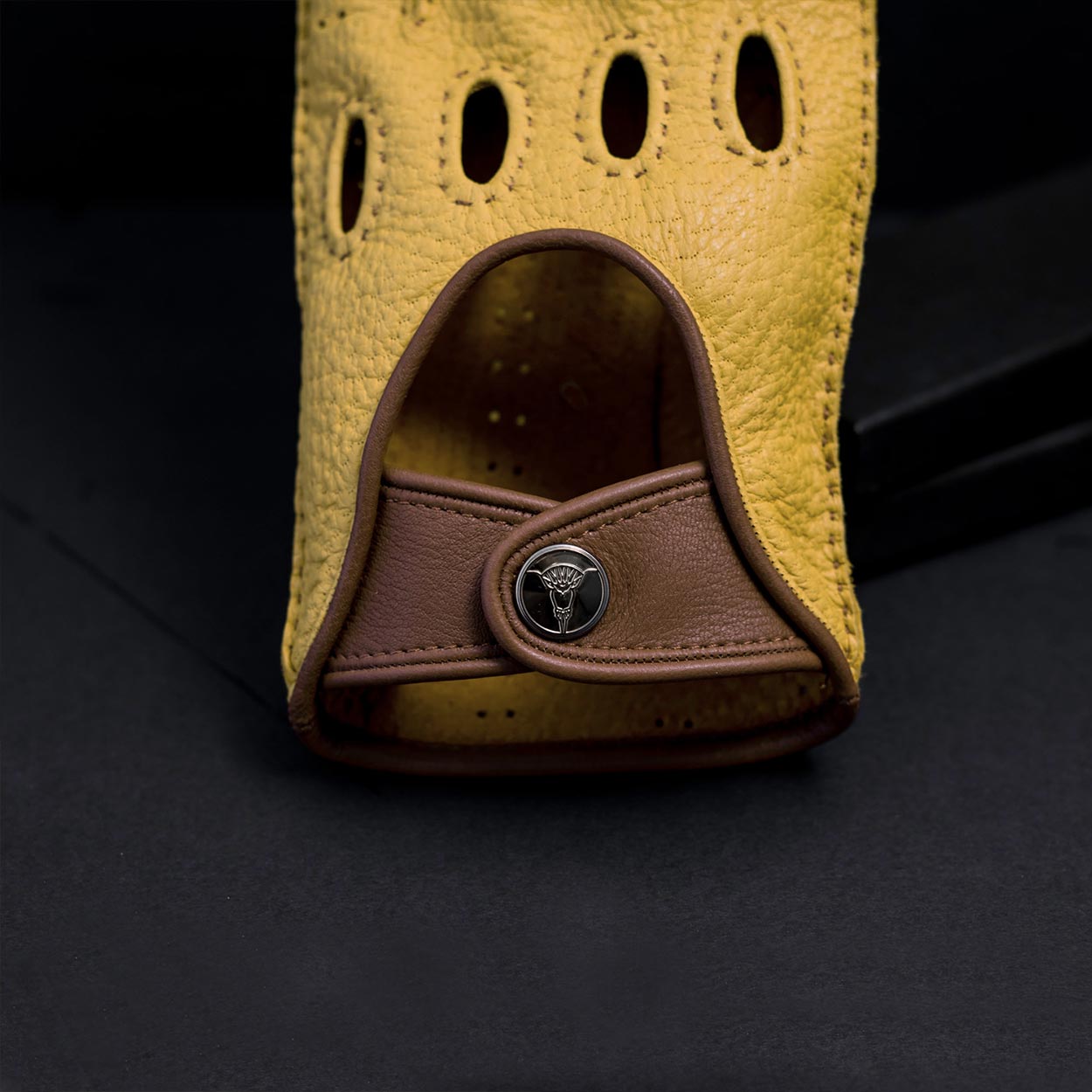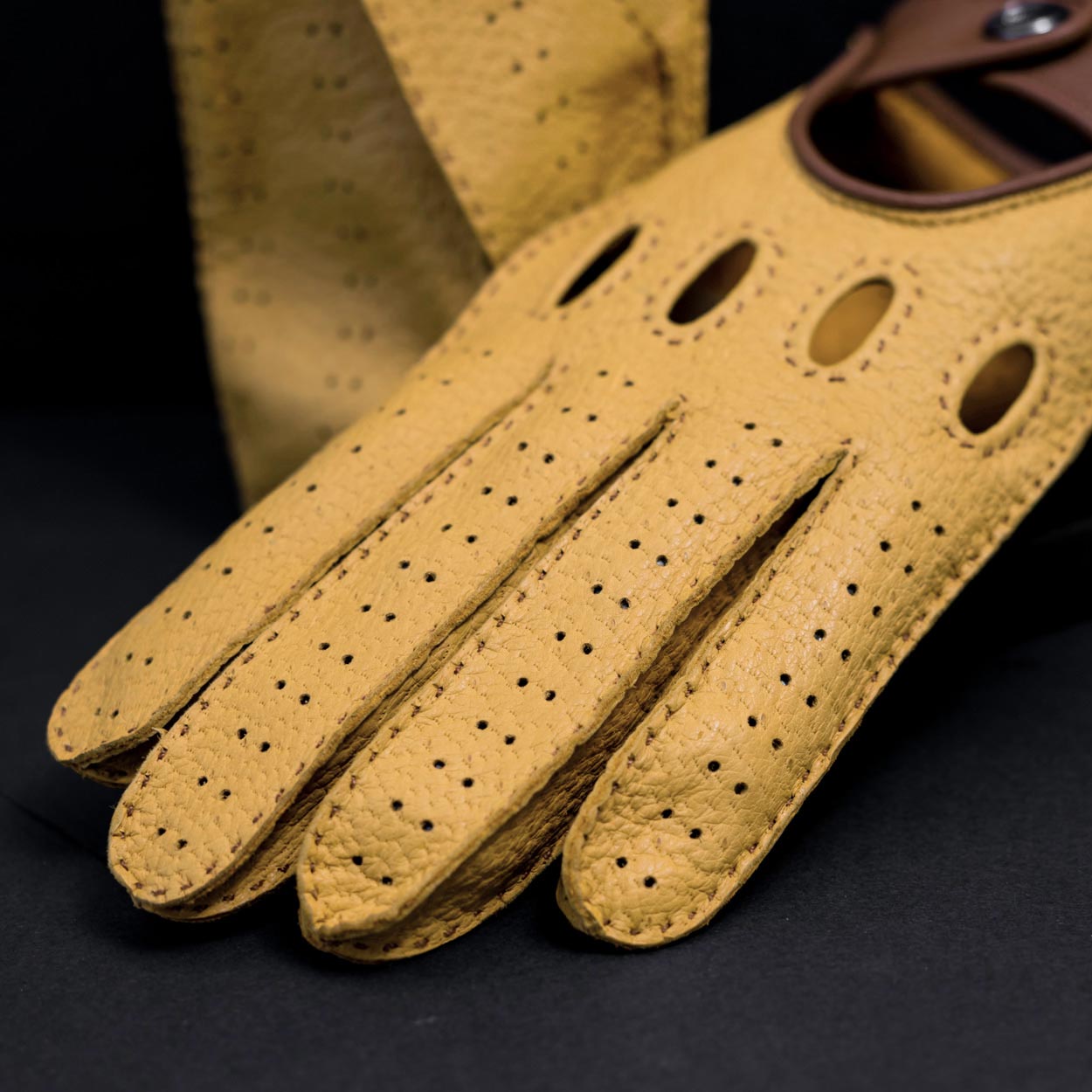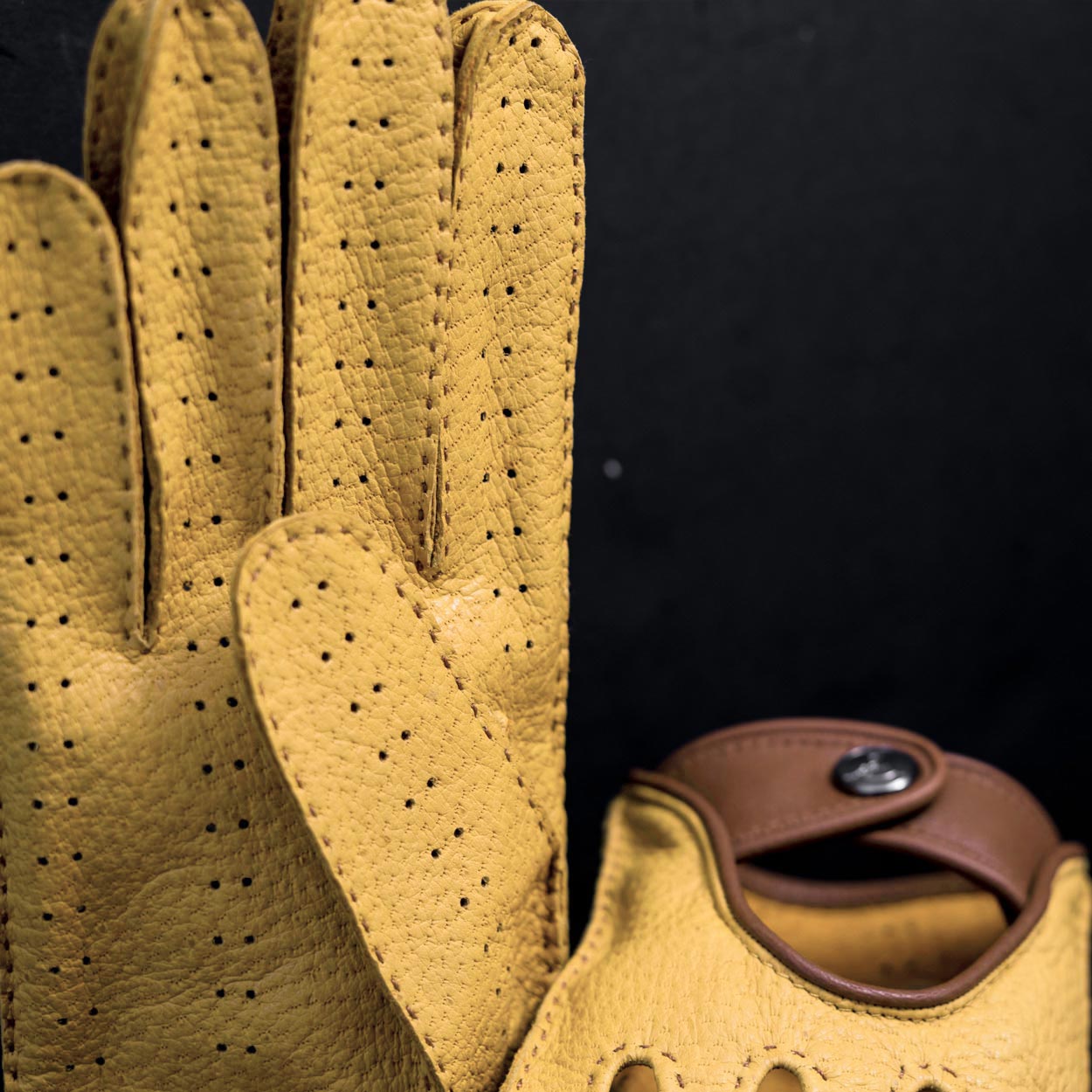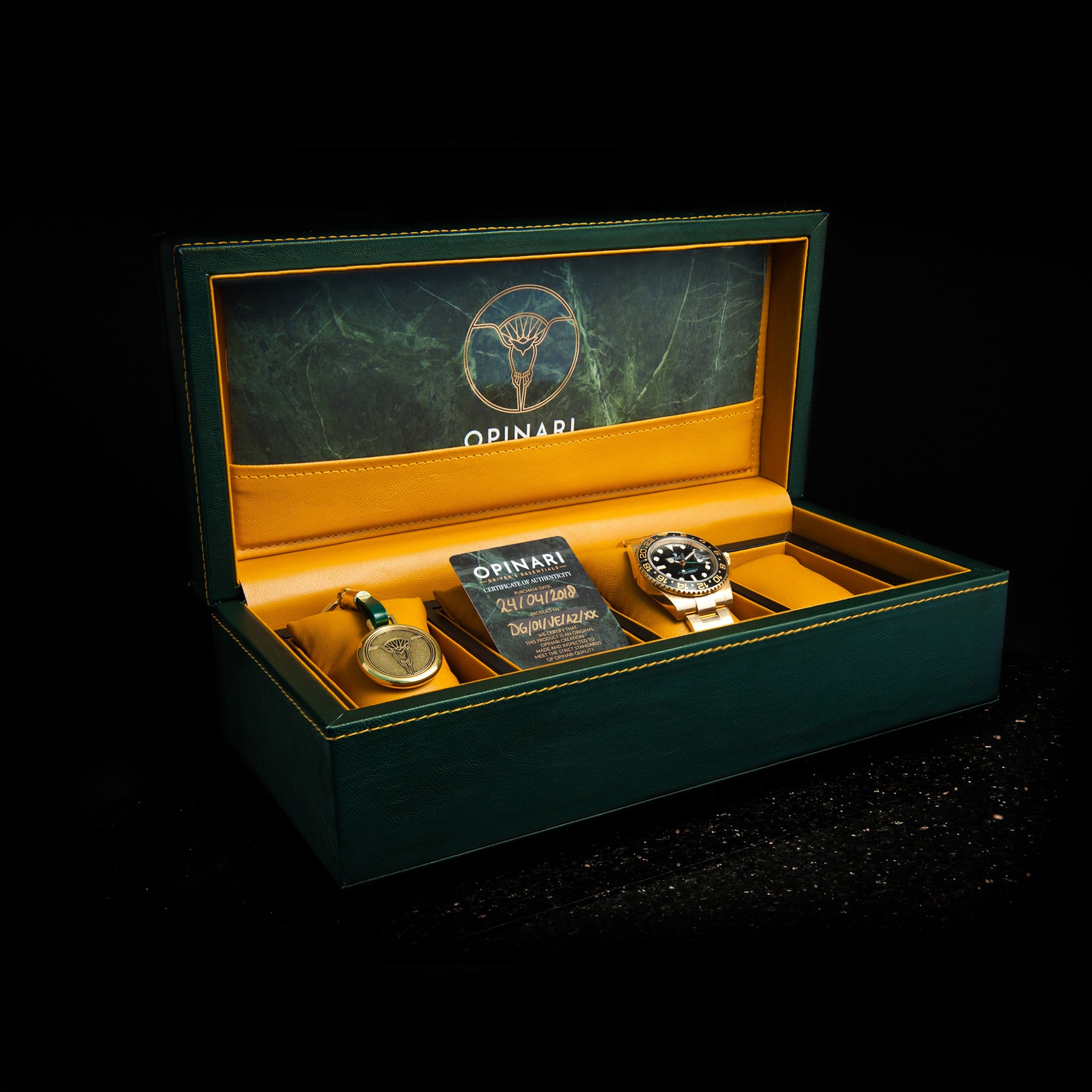 Yellow bird driving gloves
---
Shipping, delivery time & returns

After you placed your order, your order will be processed that same day and sent to you the day after.

Standard complimentary UPS shipping in Europe:
2-4 working days

Standard complimentary UPS Express shipping outside Europe:
2-4 working days

UPS Express shipping is available at checkout for the EU.

If you are not happy with your purchase it is, of course, no problem to return it. Returns must be made within 14 days of receiving the goods. All items must be returned new and unused in their original packaging and with all OPINARI - Driver's Essentials tags still attached. Please note that all costs that are made to return the goods are your own responsibility and will not be refunded.

Items that are damaged, used, or soiled will not be accepted. If the product you received has a technical problem please contact our customer service team immediately. For more information see our FAQ.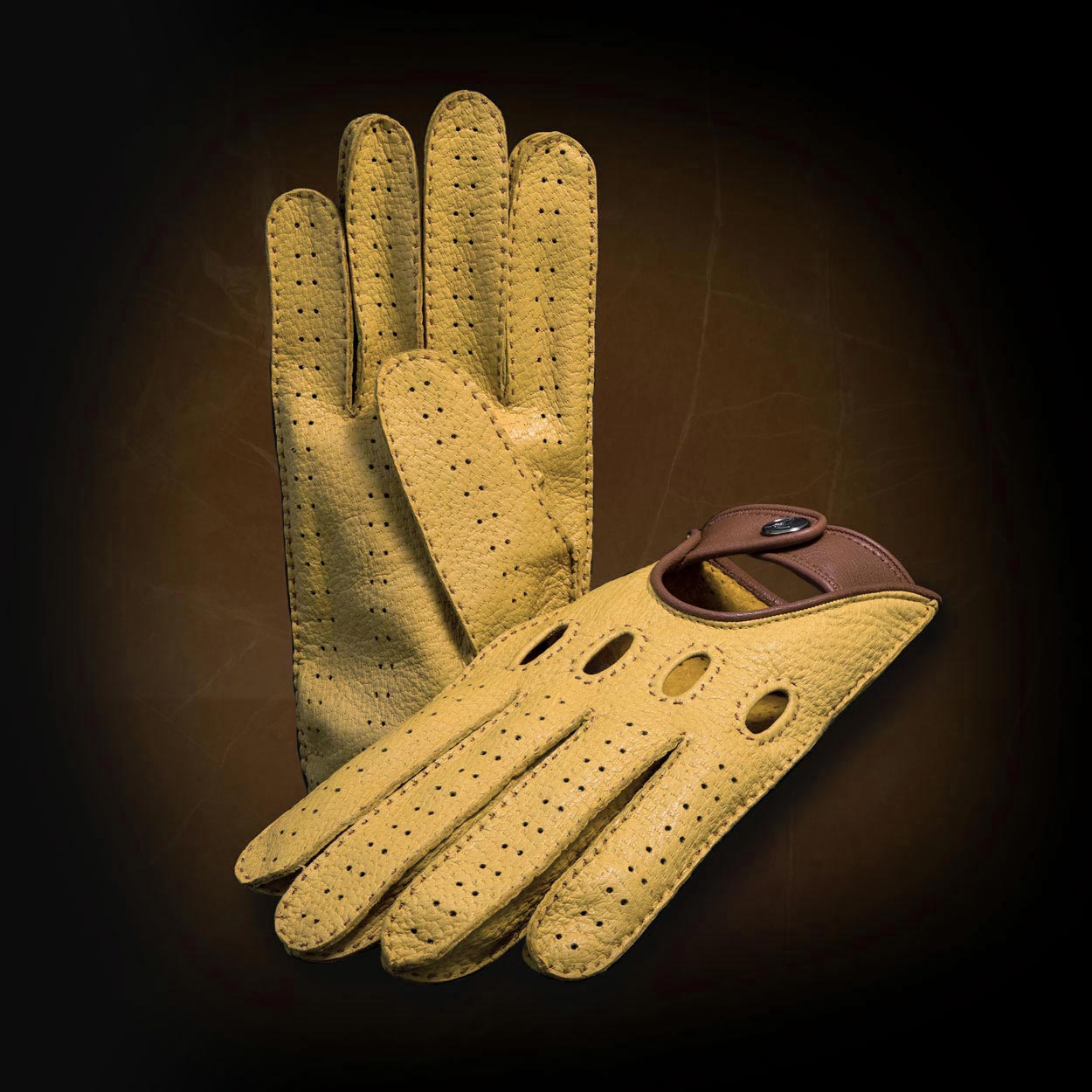 Description
Yellow bird driving gloves
Material
Peccary leather / deerskin leather
Leather color
Yellow palm and top, brown button flap
Certificate of Authenticity
Yellow bird driving gloves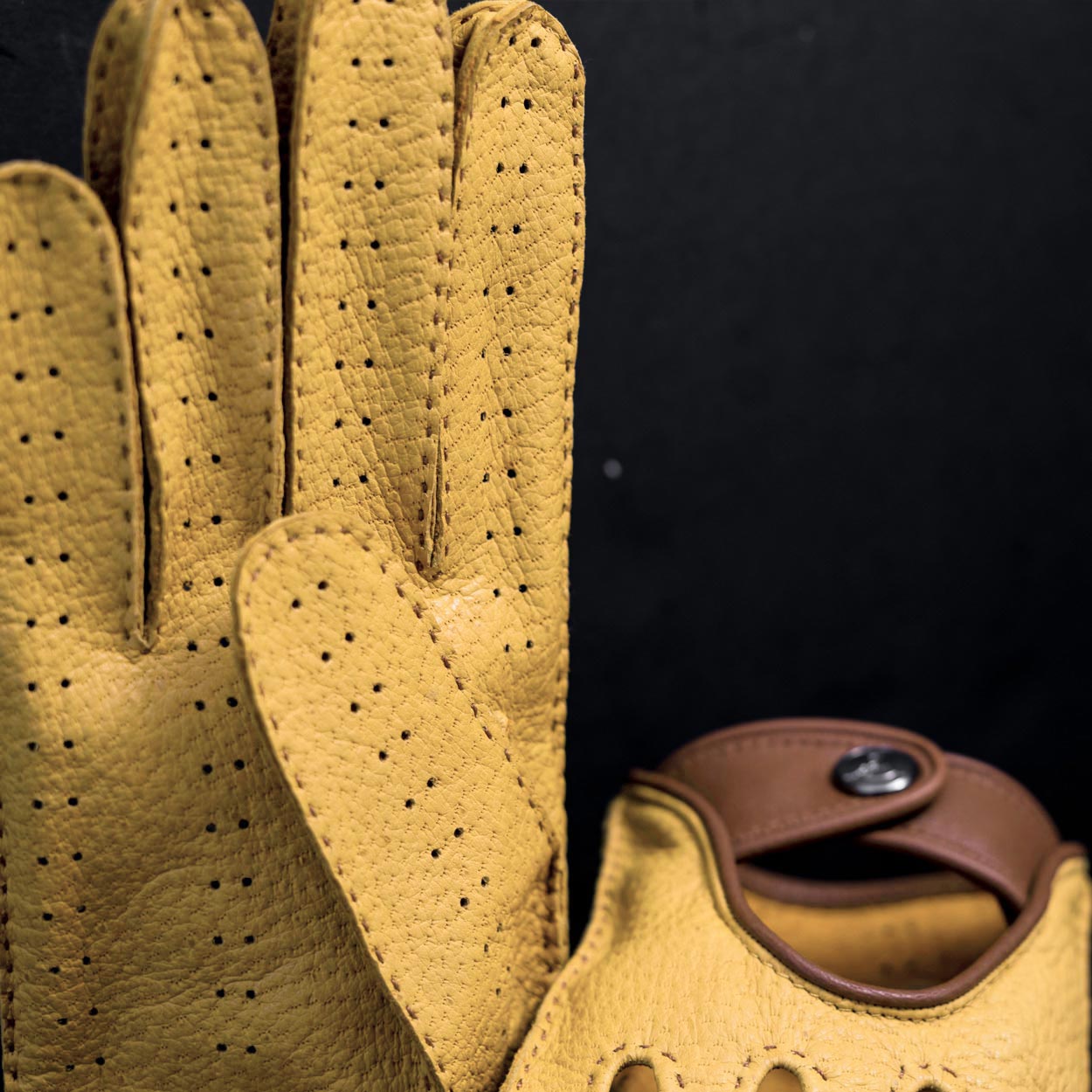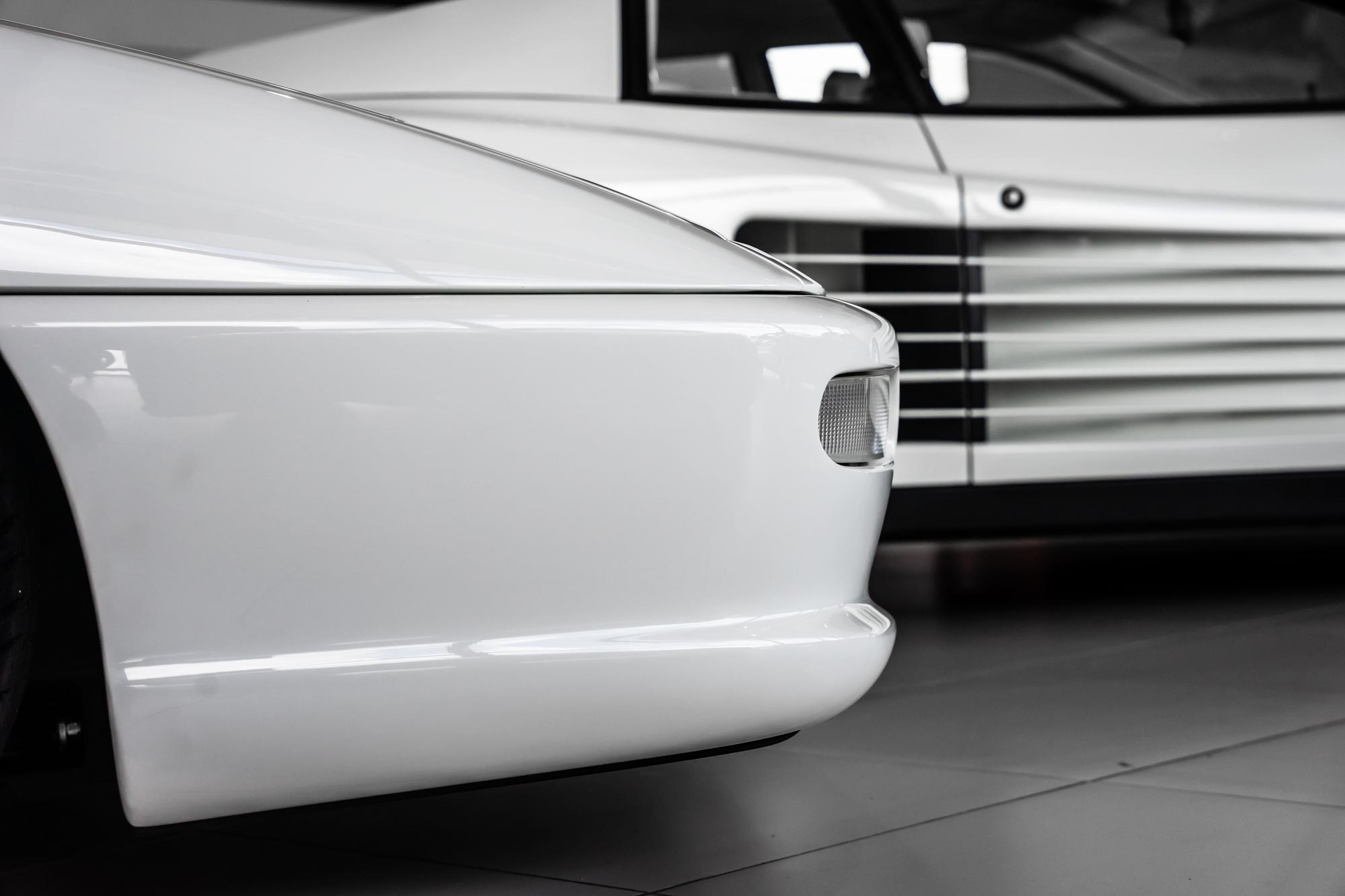 01.
Designed with detail
Each of our products is handcrafted and put through strict procedures to match the OPINARI philosophy. All of our products are inspired by the automotive industry and went through an extensive design process to translate car characteristics into unique creations, unmistakable supporting your personal car lifestyle.
02.
Crafted with care
Our designs and products are not only unique but also uphold the highest standards of quality and finishing. They are carefully handcrafted using traditional methods by the finest artisans in Italy, ensuring that we surpass all expectations and enhance your driving experience.
The Essentials Case.
Your driving gloves come in a specially made OPINARI case. This case can be used in a multitude of ways, but the main rationale behind creating it was to make a case that can safely store all your drivers' essentials in one place. This way you will never have to get into your car again without your most prized drivers' essentials. You can even use the case to store your watches, but it's up to you how to actually use the OPINARI case.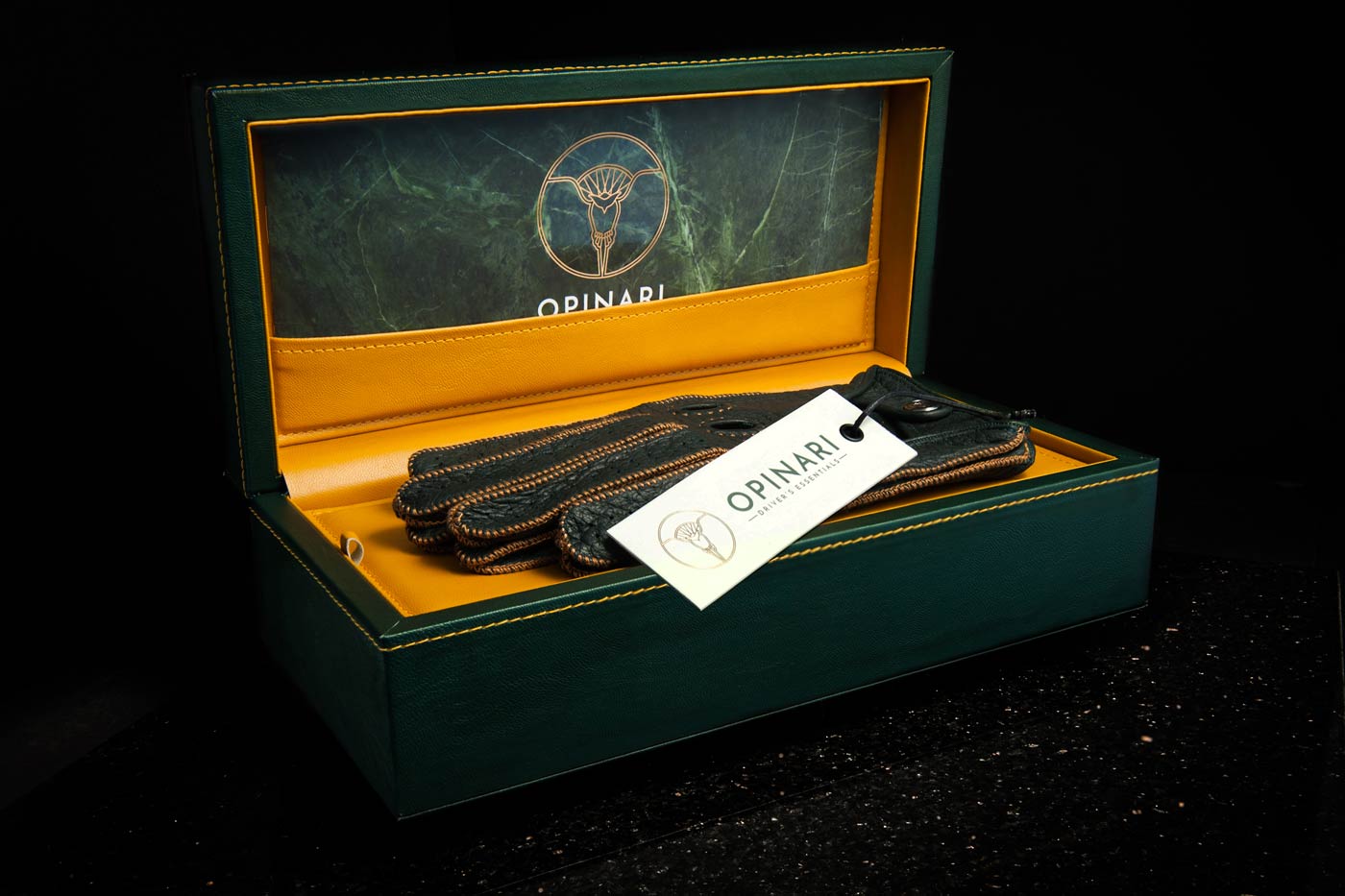 Move cursor
I purchased the "Classic Nero Driving Gloves" and they completely blew all expectations out of the water.
The service and care was amazing. The quality of the gloves is excellent, so good that I bought myself a second set. Highly recommended.
I have just received my new Opinari Blu Notte driving gloves and... they are great, beautiful, perfect... They look really, really good
"Blue Notte" driving gloves - very much part of my Jaguar driving experience. Just love them.
I have just recieved Corsa Verde gloves.  They are...!!!!! Magnificent !!!Thank you very much.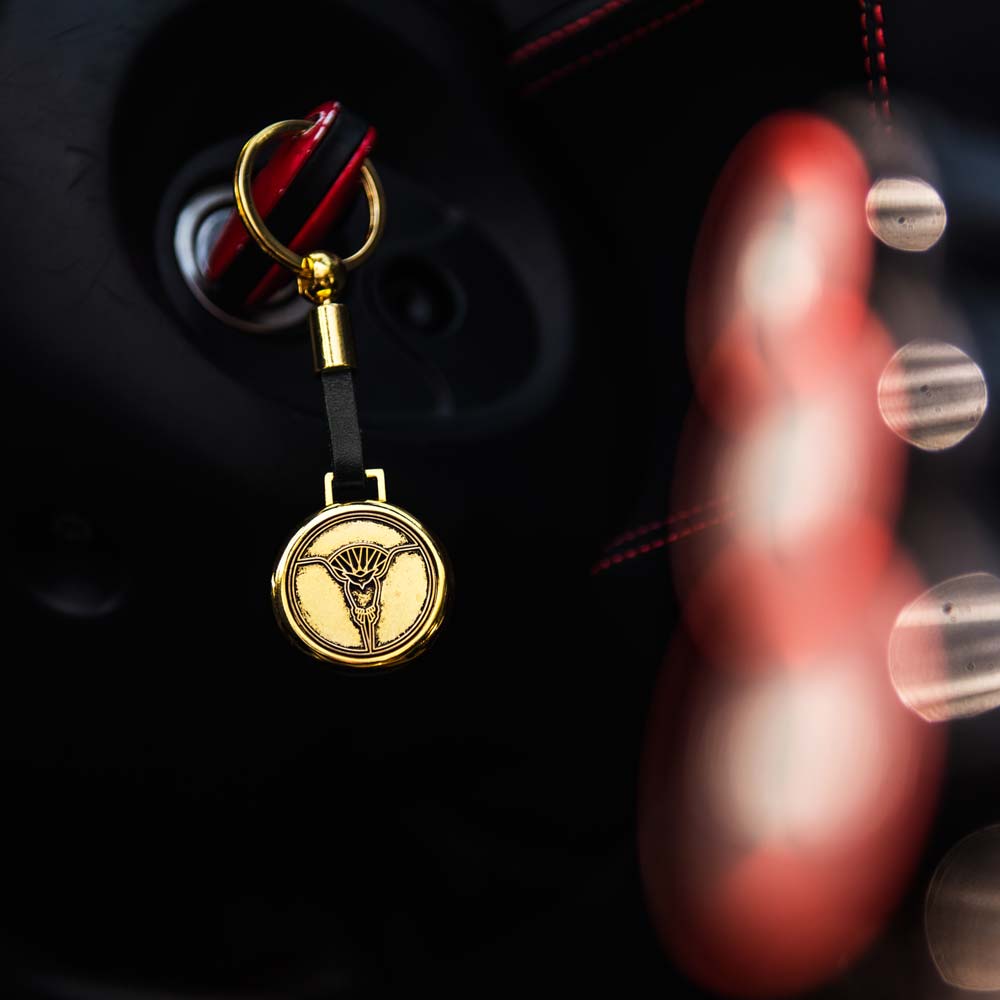 Find like minded drivers.
OPINARI products are accompanied by a carefully crafted key ring. Our aim is to unite drivers through unique expressions of their passion. We believe the beautiful key ring to be a symbol of one's search for the perfect driving experience. Now it's up to you to find like minded drivers with an OPINARI keyring and exchange your passion.
FAQ
Our customer support is available Monday to Friday: CET 9am-6:30pm.
Average answer time: 24h
How to pick the right driving gloves size?
Difference between classic and modern designed driving gloves?

The classic design has a less exposed thread. It's more elegant and subtle, whereas the modern design has a more exposed outside thread. The thread will be more complementing the total design.

Everything else, such as the use of leather, is similar and does not differ from each other. In the end, it's a matter of taste.
Do you also produce fingerless driving gloves?

Absolutely! Take advantage of our custom made service to fully customize a pair of driving gloves based on your preferences. Alternatively, if you'd like a fingerless edition from our standard collection, please don't hesitate to reach out to our customer service.
Yes, we ship all over the world. Shipping costs are free on all orders over €100.
Can I return my products if I am not satisfied?

You have the right to return purchased items within 14 days, without giving any reason. This is the so-called cooling-off period. 
Please notice that the cooling-off period and the right to return your product are not applicable to customized and custom made orders due to limited resell ability. If you would like to receive more information about custom made orders, please contact us at customer@opinari-drivers.com. 

OPINARI offers this service to determine if the product is suitable and if you indeed want the product. You can use the product as far as necessary to verify whether or not you want the product, just like you will do in a retail space. Further use of the product, such as wearing the product in a public space or any other actual use, affects your right to return the product. 
What payment providers do you support?

We accept payments with
Visa,
MasterCard,
American Express,
iDeal,
PayPal,
ApplePay,
GooglePay,
ShopPay
Bancontact.
How do I maintain my driving gloves?
Our customer support is available Monday to Friday: CET 9am-6:30pm.
Average answer time: 24h